The health of one's skin is a vital part in the pursuit of wellness. Our services incorporate cutting edge technology, organic plant based extracts, essential oils and high quality products to produce the best results. We provide customized and effective skin care.
After analyzing your skin, you will receive a customized treatment that includes: deep pore cleansing, exfoliation  ultrasonic spatula, extractions, a customized mask , serums ,moisturizer and spf.   A relaxing face, neck, shoulder and hand aromatherapy massage complete your sense of well-being. This facial is recommended as part of your ritual for achieving and maintaining healthy, balanced skin.
This facial includes all the steps of the Zen facial and is elevated with the addition of customized advanced exfoliation, and ultrasound penetration of serums and a leave on treatment chosen specifically to address you skincare needs.

This facial is wonderful for oily, acne prone skin, as well as for those who want to learn good skincare habits early. Deep pore cleansing, exfoliation, extractions, a high frequency  treatment and a customized mask will leave the skin feeling clean and balanced. Education on healthy skincare habits, home skincare routine and nutritional guidelines are provided.   For best results, we recommend committing to a customized home skincare routine.
A series of treatments is recommended. Ideally 3 to 4 weeks apart
10% discount with a package of 4.
Asian inspired formulas and massage techniques (including Gua Sha and jade rollers) combined with the latest in scientific breakthroughs are blended in perfect synergy to meet your skincare needs. Deep cleansing, exfoliation, a customized mask and serums treat the skin, while restorative massage of the face, upper body and reflex points of the feet calm the mind and spirit.
Enter a state of deep relaxation and awakened sensations with this ultimate pampering treatment. Warmed river stones and cooled marble stones are used to massage the face, upper body and feet. In addition to all the steps in our Zen facial, nourishing plant extracts and a custom serum are penetrated deeply into the pores with the warm stones, while the cool stones assist to calm, tone and detoxify the skin.
The Art of Zen ReZENerate NanoFacial
The groundbreaking Rezenerate NanoFacial aids in reducing fine lines and leaves your skin feeling and looking younger. Utilizing cutting-edge Nanotechnology, the pressure points of Acupressure, and the cool touch of Cold Therapy, Rezenerate NanoFacial delivers unparalleled 'Rez'ults! It provides an immediate plumpness while also allowing for greater absorption of the nutrients introduced into the skin during the treatment. This treatment is customized for each client for their specific needs as well as providing an abundance of relaxing massage. This is a fabulous choice for someone who wants a corrective treatment without any downtime! Packages available upon request.
Rezenerate NanoFacial with Enhanced Dermaplaning  $160 / 90 minutes
Rezenerate facial with Celluma light treatment  $160 / 90 minutes
This is a great maintenance facial between regular treatments or just when you need a little glow. It includes deep pore cleansing with exfoliation, a custom mask, moisturizer and spf. . A relaxing neck and shoulder massage completes this efficient yet thorough treatment.
Stimulation of reflex points on the feet promotes improved circulation, reduces stress and encourages overall balance and healing.
This is a therapeutic and relaxing facial for the back. Treatment includes deep pore cleansing, exfoliation, extractions, massage and a customized mask. Promotes health and balance to this hard to reach area.
zen sanctuary team
Meet Our Estheticians
Debbie Burgeson
Debbie has over 30 years experience in the health and wellness field. As a licensed Esthetician and reflexologist, she passionately applies this knowledge with each of her clients and enjoys customizing their treatments to meet their individualized needs.
Chemical Peels
Medium Depth Peels (slight visible peeling may occur).
Your Esthetician will analyze your skin and consult with you on your skincare goals. Depending on the condition of the skin, clients may be asked to follow a prescribed home care plan for a few weeks prior to receiving a peel. Prepping the skin aids in achieving optimal results.
We offer:
1) TCA- Addresses uneven pigmentation, improves texture and tone and smooths fine lines.
2) Jessner- Best suited for oily, acne skin.
3) Blended Peels- Customized to meet your specific needs
A series of 3-6 peels are recommended for best results. 10% discount and a Post Peel Home Care kit are included in price of packages of 3 or more.
Add-Ons:
Hands – $50
Chest – $70
Initial Consultation (required prior to service)
Complimentary – 15 mins
Customized Chemical Peel
$140 (Initial peel and sensitive skin)
Advanced Chemical Peel
$160 (Multiple layers and Retinol booster)
Facial Enhancements
Skin Renewal exfoliating treatments (lactic, pumpkin or glycolic acid application)
Hands, feet or decollete……………………..$30
Back ………………………………………$50
Smoothing and Soothing Foot Exfoliation and Massage………………………………………$30
Restorative Foot Massage………………………$20
Custom Eye Treatment……………………………$25
(designed to hydrate and tone, reduce puffiness and soothe irritated eyes)
TINTING
Brow……………………………….$24
Lash……………………………….$30
Brow and Lash…………………..$45
Micro Channeling-Micro Needling Evolved
Procell Microchanneling is Collagen Induction Therapy (CIT) and so much more. It not only generates new, high-quality collagen via stimulation of your stem cells, but also reduces the signs of aging and corrects skin imperfections through the introduction of potent peptides, growth factors, and stem cytokines contained in the U.S. manufactured serums delivered into freshly created micro-channels.
Micro-filaments are gently "stamped" on to the skin to create thousands of stimulating micro-channels in your skin. The best thing is that it rejuvenates with little to no recovery time and produces both corrective and preventive benefits.
Microchanneling improves the appearance of aging skin, increases the vitality of your skin, and reduces the appearance of fine lines, wrinkles, uneven skin tone, acne and acne scarring.
In the past, microneedling created damage to the skin in order to trigger tissue repair. Procell stimulates an effective rejuvenation with less damage to skin.
If you are looking for a way to improve the look and health of your skin, Procell is a great option.
Introductory Treatment $399
All treatments include consultation, post procedure mask, and aftercare serums ($90 value) and Celluma Red light treatment ($50 value) This treatment will aid in recovery by decreasing inflammation and further stimulating the production of collagen.
Series of 4 (recommended for best results)
**Series discount $1,197 for 4** ($100 savings per treatment) Reg.$1,597
Book Microchanneling!
Introductory Treatment $399 – 120 mins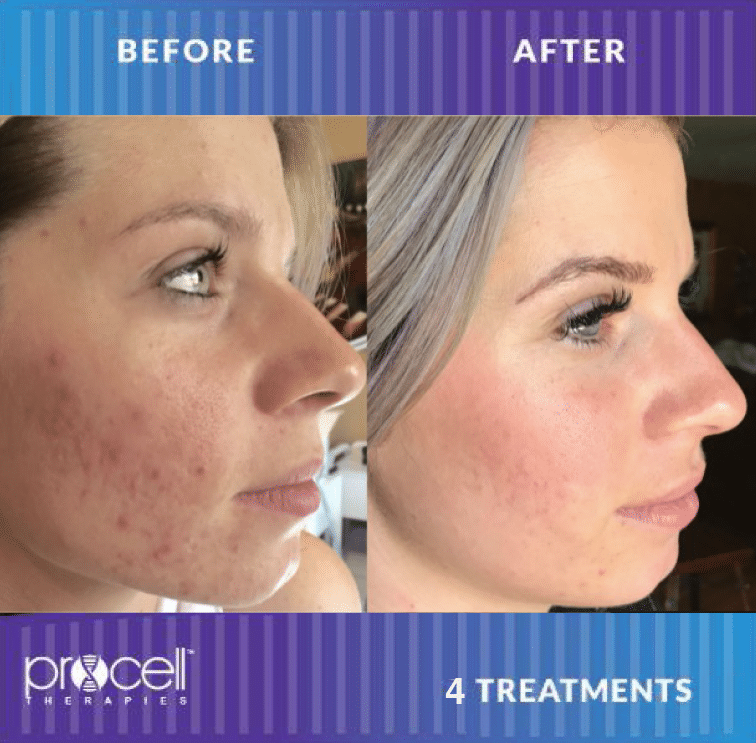 Waxing
Please be advised that clients using Accutane, Retin-A, Renova or Differin, should abstain from waxing. All waxing services include a soothing antibacterial treatment.
Brow Shaping
$25 – 15 mins
Brow Maintenance
$20 – 15 mins
Testimonials
What People are Saying
"I have come here a few times for facials and my mom gets both the facials and a massage.  They do an excellent facial, my skin feels so much better now.  The service is very kind, professional and soothing, they didn't upsell unnecessary products.  I will be coming back here for my facials in the future and highly recommend Zen Sanctuary.  I know my mom is very pleased as well with the massage as she goes regularly for her back."
-Vi C.
Gift Certificates
Treat Someone to a Relaxing Day of Zen
Nothing shows like you care like giving someone the gift of relaxation.